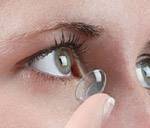 At the Bolton Optometry Clinic, we make it easier to try contact lenses with the guaranteed contact lens success program.
Discover the freedom of healthy, enjoyable contact lens wear. We offer daily wear disposable contacts, tinted to enhance the color of your eyes and gas permeable toric lenses. We even offer bifocal contact lenses. You should also know that many contact lenses come with UV protection – just like all of our quality sunglasses.
If you're not completely successful with your contacts, we'll refund the cost of your lenses within 3 months of the original Contact Lens Fit appointment. Our Bolton, ON eye care experts are dedicated to you having a completely healthy and enjoyable contact lens experience.
Available Brands
Click HERE to reorder your contact lenses.
Read more if you are interested about contact lens alternatives such as Laser Vision Correction in Bolton, ON.